Enhance customer experience with SmoothLoop™ video displays.
Picture Perfect
SmoothLoop™
Bring lobbies and waiting rooms to life with sound and movement through video.
Patented SmoothLoop™ technology is changing the way the world see pictures with state-of-the-art high definition video displays. These displays are wall mounted to play SmoothLoop™ video content that:
Creates an ambiance and setting that is impossible to achieve with static images.
Draws each viewer into each and every setting with the video's immersive content.
Creates buzz for your brand when you deliver this unique and memorable experience.
SmoothLoop™ provides downloadable video content for display panels in homes, offices, public areas, retail establishments, for use in lobbies, conference rooms, classrooms and waiting rooms.
SmoothLoop™ is completely customizable and can work with any screen that has our digital media player added to it.
The SmoothLoop™ digital media player:
Works with all screens, display panels, digital signs, and virtual reality headsets (audio is optional)
Allows for programmable scheduling of video content
Contains hardware and software to download and play video content
Integrates ability to upload video content to the player remotely
Grants access to the SmoothLoop™ content library subscription service featuring video content of outdoor environments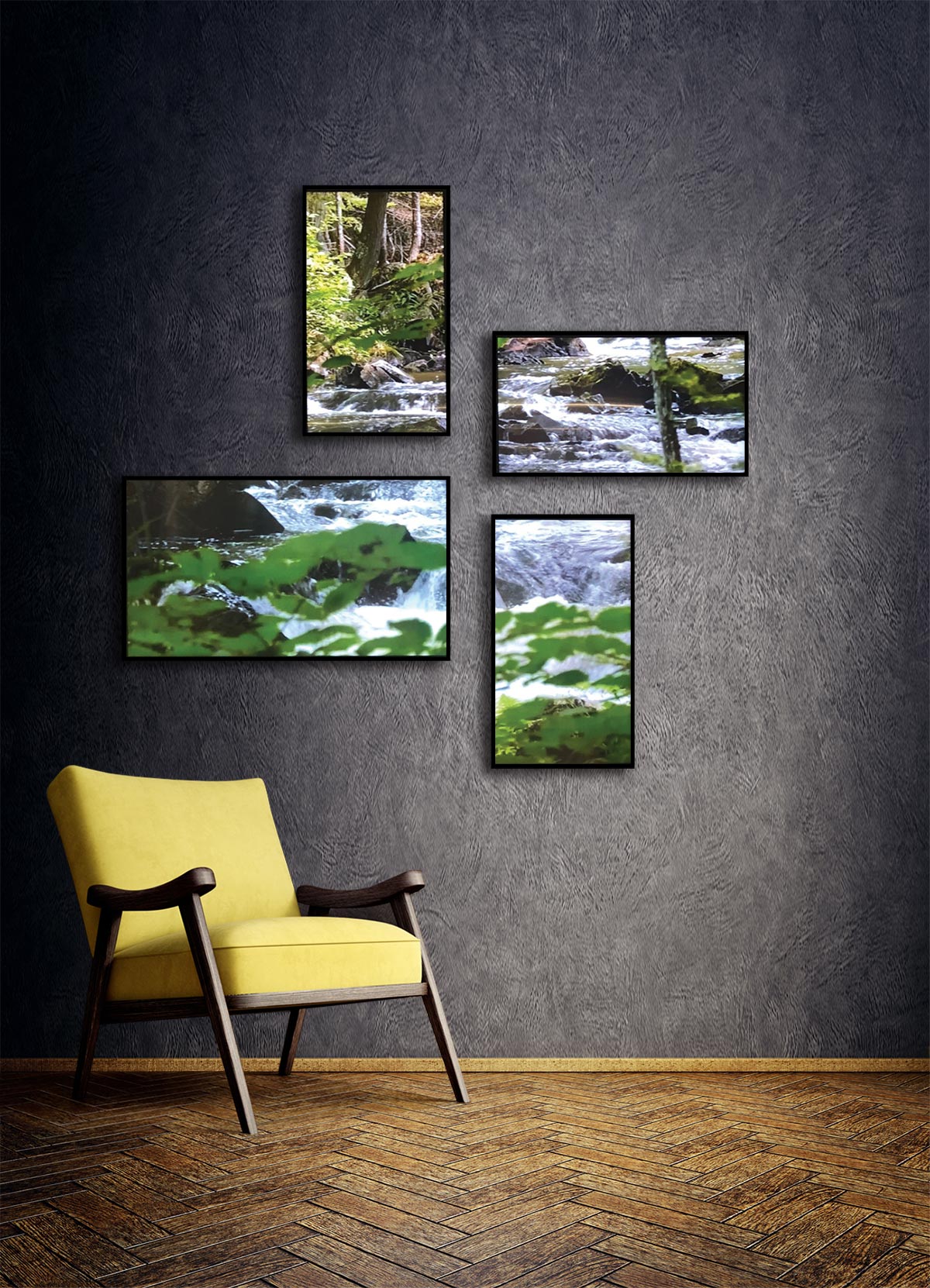 Greet guests with new, unique video displays.
Competitive Advantages
SmoothLoop™ patented technology with 28 original and new to the world claims
Picture-perfect immersive content with excellent image quality and seemingly real-time content
Competitively and realistically priced
Customized UHD/1080 and 4k display units; single piece or mosaic options
Adaptable to existing display units and monitors
Adaptable to changing technologies
Ability to change the video content setting to another video manually or with the smart phone app
Ambiance that fits and adapts to any setting with the simple choice of content
Ability to set your sleep schedule to the video content and also wake to the content through programmed Blue Tooth wireless technology
Customized content; cloud library access
Ability to deliver seamless images, scalable to any size or shape, and excellent optical characteristics
Revenue Management
Hardware and software pre-installed and embedded
Installed by select IT professionals
Supported by an annual service subscription that includes 24/7 technical support as well as assistance from project managers and consultants
Includes flexibility to manage content
The product is scalable
Market Scale and Scope
SmoothLoop™ will have a fantastic niche in an estimated $100+ billion Pro AV industry because it uses new technology to improve ambiance, interactive experiences, sales, and marketing.
Market research shows:
A need and expectation for an improved consumer experience in hospitality, healthcare, and professional service industries
Value for creating a work space with ambiance and interactive environments
Workplace art has an impact on work ethic, motivation, creativity, stress-level, and general well-being
Target Audience
Consumer
Corporate
Education
Financial
Government
Healthcare
Hospitality
Retail
Sports Venues
Transportation
Deliver a unique memorable experience with state-of-the-art high definition video displays.
Content Library
New Videos - New Releases
Limited Edition
Spring, Summer, Autumn, and Winter Nature Scenes
Wisconsin, Minnesota, Alaska, Colorado, Wyoming, Washington, and Oregon
United States National Parks
Germany, Austria, Switzerland, and Italy
Canyons and Caverns
Cities, Villages, and Towns
Clouds / Skies / Stars / Northern Lights
Sunrises and Sunsets
Desert and Rock Landscapes
Flowers, Leaves, Grass, and Foliage
Woodlands, Trees, and Forest Trails
Lakes, Rivers, Waterfalls, and Streams
Mountains Aspens, Prairies, and Lakes
Farms and Farmland Settings
Oceans, Beaches, and Harbours
Prairies, Fields, Grasslands, Foothills, and Mountains
Cabins, Retreats, and Shacks
Volcanos and Hot Springs
Golf Courses